3 min read
OPEN PATH BLOG
Your Strategy for B2B SaaS SEO
Luke Donahue | August 11, 2021
In the 2000 film The Patriot, Mel Gibson's character, Benjamin Martin, teaches his sons how to properly aim a rifle. As the boys ready their targets Martin reminds them, "Aim small, miss small."
This iconic scene is also reflective of an effective SEO strategy for B2B SaaS companies. As you target keywords for organic search traffic to your website, remember: "Aim small, miss small."
What is SEO? B2B SaaS Content and Technical SEO Explained
SEO stands for search engine optimization. It refers to how readable and organized your website is for search engines, like Google. This includes both content SEO (how your website copy targets popular keywords) and technical SEO (how your website is coded).
For B2B SaaS company websites, your technical SEO strategy won't be different from other types of websites. Technical SEO is all about website security, usability, and speed.
However, your content SEO strategy needs to be incredibly focused and tactical – Aim small, miss small.

What's the Right SEO Strategy for Marketing SaaS Companies?
When analyzing SEO for B2B SaaS companies, I usually encounter the same common mistake.
Software developers are naturally ambitious. It's one of the primary reasons you made your software in the first place. You found a need in the industry and built an ambitious software that does wonders for the companies that need your solution.
But in terms of content SEO, being too ambitious usually results in your website never being discovered through organic traffic. There is far too much competition for high-volume keywords, making it incredibly difficult to find your website if you're chasing after the biggest fish in the ocean.
A Lesson from a B2B SaaS SEO Consultant
Let me give you an example: Many of my clients make specialized enterprise resource planning (ERP) software solutions. Let's assume one of them made ERP software for shoe manufacturers.
The chances are high that if a B2B company developed its content SEO strategy without help from a SaaS SEO consultant or B2B SaaS agency, it would have targeted "ERP software" as its keyword of choice. Do you know how hard it is to rank on Google for "ERP software"?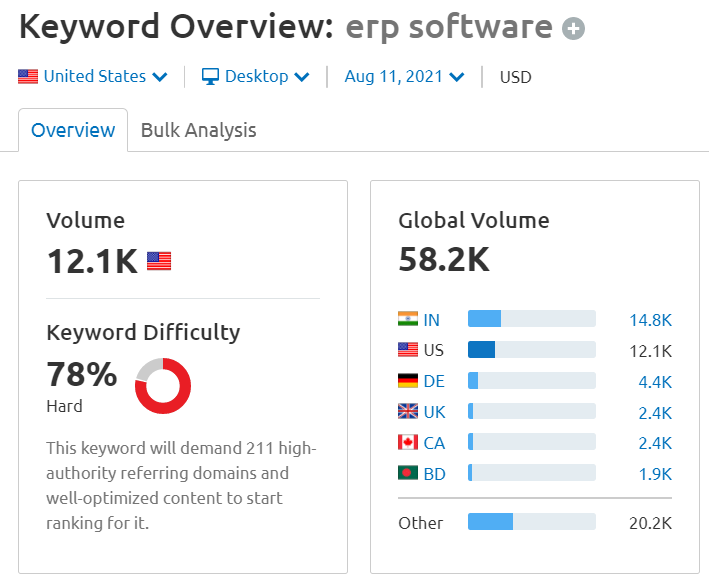 According to Google (Aug. 2021), that keyword gets searched around 58,000 times a month. Now, that's a big pool to swim in! According to Semrush, an SEO software, ranking on the front page of Google for that term would require your website to have more than 150 high-authority domains reaching back to your website (backlinks). Even further, if you want to jump ahead in line with an ad, you'll have to pay Google around $15.63 per click.
This means that if this hypothetical B2B SaaS company tried to rank for "ERP Software" on Google, despite its best content and technical SEO, it would never make it to the front page in terms of organic search. (A middle school basketball player would have a better chance of beating Steph Curry in a 3-point contest.)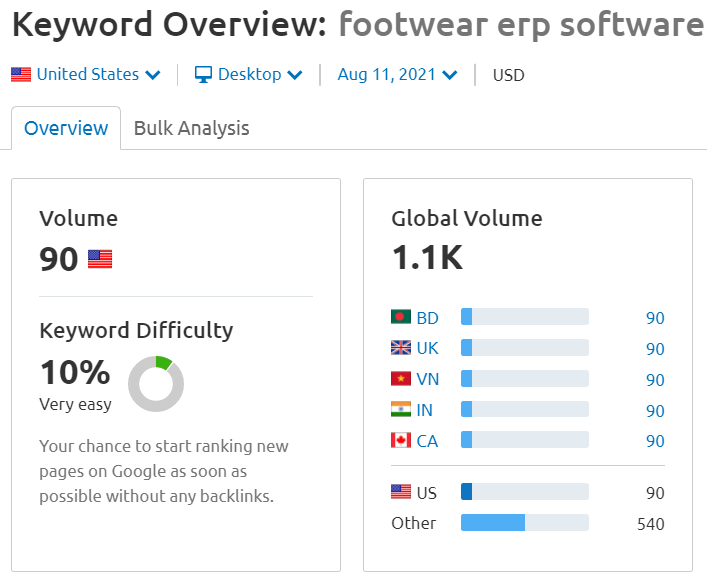 But what if the company targeted an easier keyword? What if the B2B SaaS company went after a more precise keyword that was still relevant to its business. If the company centered its content on a term like "footwear ERP software," it would likely get into one of the top search results, with minimal effort. According to Semrush, this keyword (Aug. 2021) gets searched 1,300 times monthly but has virtually no competition.
Again, the lesson is clear: Aim small, miss small.
B2B SEO Services from a B2B SaaS SEO Agency
While the logic of this makes plenty of sense, many of those running a B2B SaaS company simply don't have the time or expertise to do the extensive research needed to know what keywords to aim for.
While you could hire someone onto your marketing team to do this for you, chances are it wouldn't be cost-effective. For most B2B SaaS companies, the easiest thing to do is to reach out to an SEO agency to handle the dirty work of digging into the data to find the optimal keywords to target.
Here's what you can expect from a B2B SaaS SEO agency, or similar:
Perform a technical SEO audit of your website
Update web page language for technical SEO best practices
Audit existing web copy and content
Provide a review of existing content SEO
Recommend an SEO strategy for future web copy and content
Optimize existing web copy and content for organic traffic


Related Content: A Complete Guide to B2B SaaS Marketing
Need a SaaS SEO Expert for your Company?
If you're looking to have an SEO strategy as impactful to your website as your software is for your customers' businesses, then look no further.
At Open Path, we are a B2B SEO company that provides insights that have been proven to work. If you're ready for your website to start getting found organically, schedule a time to talk with us. We'll provide you with a free preliminary review and discuss the best SEO strategy for your B2B SaaS company.
View More Blog Posts