So, you've developed great software that serves a specific need in your industry, and now you want the world to know about it. While there are many ways to market your SaaS offering, the best place to start is with a great website.
In this blog, we'll cover some of the most common B2B SaaS website design flaws and outline the three main keys you need to nail in order to ensure your website is doing your software justice.
Related Content: A Complete Guide to B2B SaaS Marketing
Key #1: Keep your SaaS Website Design Simple
Your software offering is highly technical, fairly complex, and serves a niche market. Communicating everything your software can do can be quite the challenge and will require some restraint.
When in doubt, remember this simple acronym: KISS – Keep It Simple, Stupid.
When a visitor comes to your website, they should quickly be able to answer some very basic questions:
Who are you?
What do you do?
What do you want me to do?
Software company home page content needs to be simple. Minimal images. Minimal text. Your website needs to communicate its purpose within 5 seconds; faster than even an elevator pitch.
A good example of this is the B2B SaaS company Navarik.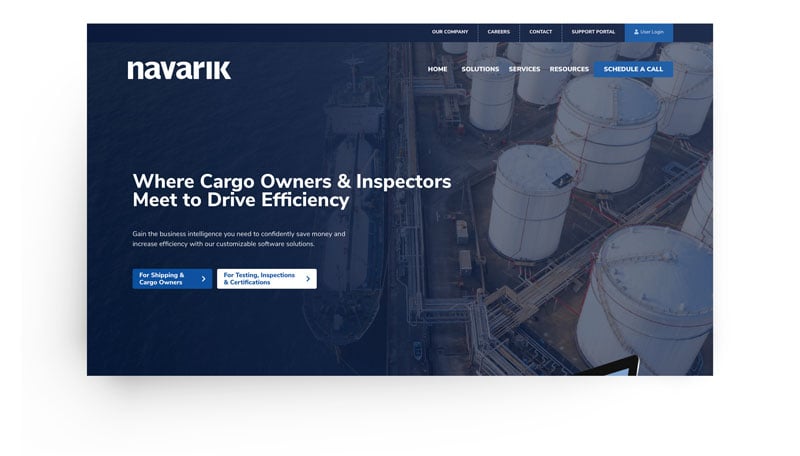 How long did it take you to answer those three questions?
Who are you?

Navarik

What do you do?

Help cargo owners and inspectors be efficient

What do you want me to do?

Schedule a call and/or learn more
Did you notice how they didn't use fluffy language, distracting pop-ups, or a wall of text? This is a clear example of the less is more approach used perfectly.
That is because Navarik has a good sense of what is called user flow.
Key #2: Great SaaS Web Design Compliments the Buyer's Journey
When I go to the mall, one of the most annoying things is when a vendor in the middle of the walkway interrupts my journey to the store I'm going to in order to try to shoehorn their business instead.
It's interruptive. It's distracting. It's a major turnoff.
Why? Because it doesn't flow with my natural buyer's journey. As you build your SaaS website, don't try to be one of those invasive mall kiosks.
The Buyer's Journey and your SaaS Website
Not everyone visiting your website is ready to buy your software.
In the buyer's journey, there are three stages:
Awareness

: Knowledge of a problem

Consideration

: Problem is understood and options are explored

Decision

: Options are known and purchase is made
Only in the decision stage is the buyer ready to purchase your software offering. In fact, the vast majority of your visitors will be in the awareness and consideration stages, not the decision stage.
What this means is they're not going to schedule a demo or a call with a sales rep no matter how much you push it -- they're just not ready for that yet.
Your SaaS website and landing pages need to appeal to each step of the buyer's journey, not just the decision stage.
This means providing resources, content, and calls-to-action that go beyond merely talking with a sales rep and scheduling a demo. Create carefully crafted landing pages that help visitors throughout their awareness, consideration, or decision stages, not just one of them.
Key #3: Great SaaS Landing Pages Capture Leads
Your website needs to be a wealth of information, not only about your products and services, but about the industry you work with too.
One company that does a great job of this is our friends over at CEI. Their landing pages and content address visitors at all three stages of the buyer's journey. Rather than just being a website that sells welding software, they use their platform as an authoritative and knowledgeable industry resource for everyone, not just those who can buy their software.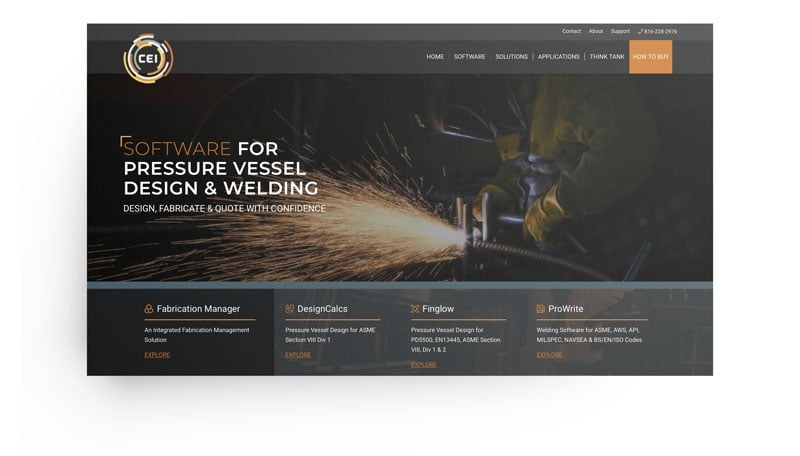 In order to market your software well, your website must capture and nurture leads at all three stages of the buyer's journey.
In the awareness stage
T
ease out the problem your software solves and empathize.
For example, check out this awareness-oriented blog from CEI. It is filled with helpful information and establishes CEI as a credible industry resource.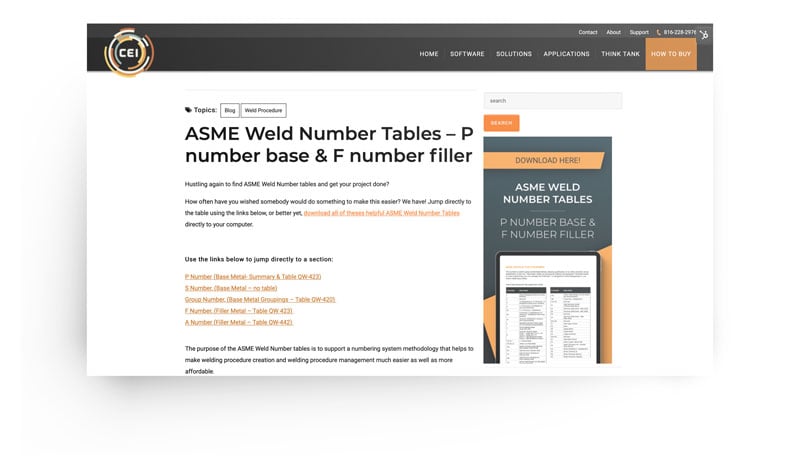 CEI makes welding software. So someone landing here is aware that they need to weld up to code and is simply looking for a little help making sure they perform the right weld on a given project.
In the consideration stage
Give non-branded options for how to treat the problem.
Help them come to an understanding that software is the best solution to their problem.
To follow up on this blog, CEI crafted a gated resource to help those who needed the information from that blog in an eBook that is more easily digestible.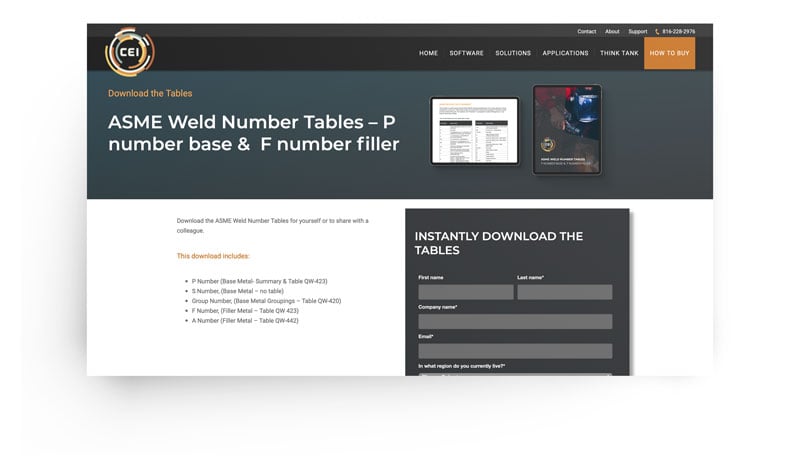 The searcher landing on this page is aware that they need to know the proper codes to make the right weld. Now they're considering options to make their life easier. This eBook puts all those codes in front of them.
In the decision stage
Demonstrate how they can buy and use your software to be that solution.
Your customer is ready to buy a software solution you offer. CEI does this by strategically placing calls-to-action throughout their website and in email series following up from the eBook download.
For CEI, this p-numbers campaign has resulted in a massive surge in website traffic -- over 200,000 page views! -- including hundreds of new leads and even customers.
For each stage, you'll want to provide lead capture opportunities that will be enticing because they help them where they're at. This is your opportunity to get searcher contact information at each stage of their buyer's journey.
Getting Help from a SaaS Design Agency
In addition to the keys I've mentioned here, remember, user experience matters far more than visuals and aesthetics (though those are nice too). It doesn't matter how beautiful your website is if it isn't carefully constructed to address your visitors in a way that speaks to their concerns and where they are at in their buyer's journey.
Just like your software is the product of great planning and execution, your website will need to be as well. If crafting a website that coincides with the buyer's journey is new to you, then consider getting help.
At Open Path, we've helped B2B SaaS companies transform their websites into authoritative industry voices that drive traffic, convert leads, and get results. And we can do the same for you!
Blog Search
Subscribe Here
Recent Posts