5 min read
OPEN PATH BLOG
How to Improve Website Traffic Using Your Company's Blog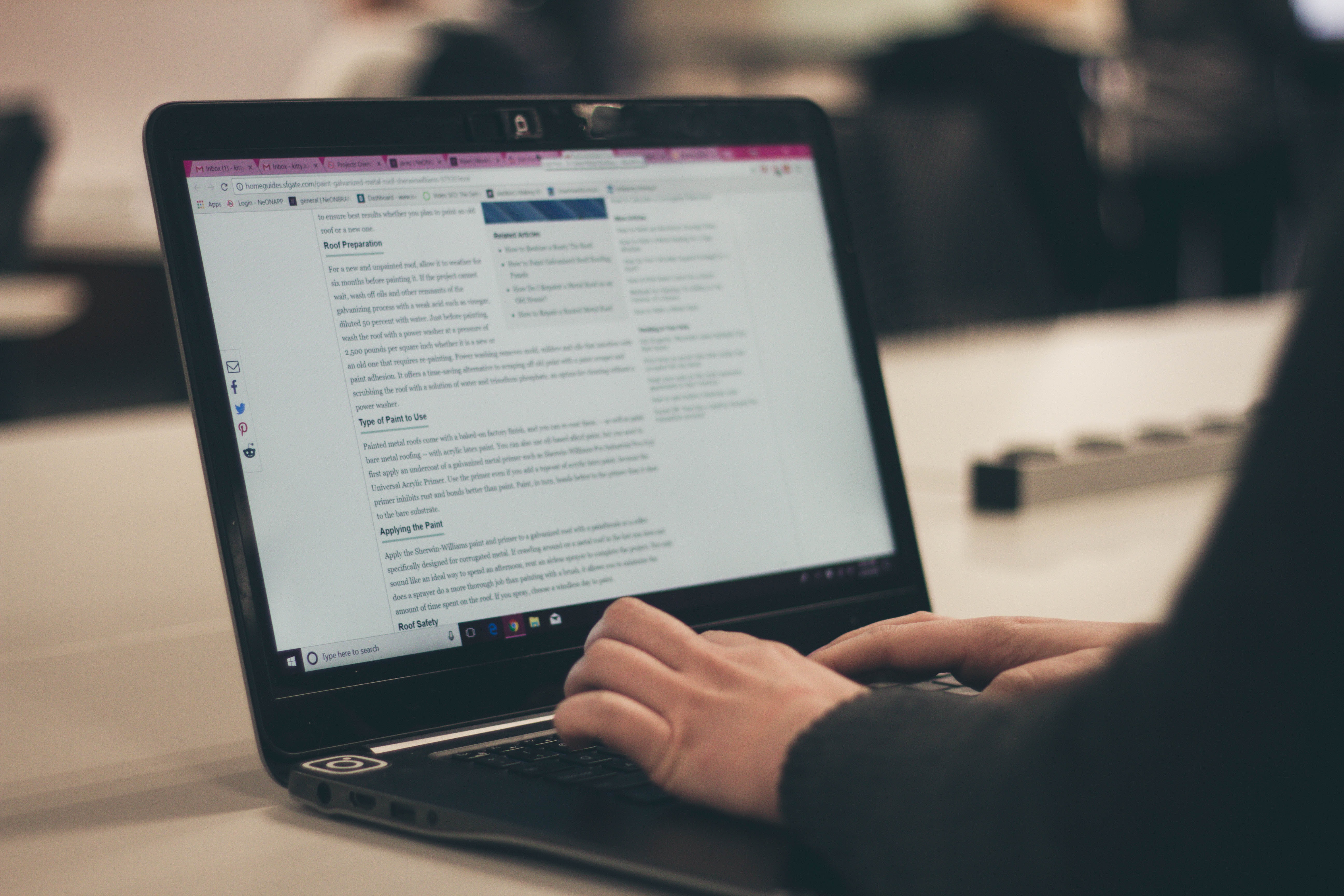 Luke Donahue | September 2, 2021
Your company's blog can be a powerful tool for letting eager searchers know that your business has the products and services they need to resolve their problem or capitalize on an opportunity. And, while your blog post may provide valuable information in and of itself, if it's not getting discovered online, none of that information is being read by your intended audience.
While optimizing your content based on blog data and analytics is crucial to success, here are a few additional tips for improving your website traffic using your company's blog.
Related Content – B2B Blogging: How to Improve Website Traffic Using Content Marketing
Improve Website Traffic by Boosting Referral Traffic
The best way to get referral traffic is by simply having an engaging blog that other website owners want to share on their own site. Outside of simply writing great copy that gets discovered, this is very difficult to do. However, you do have options.
This is part of the challenge of backlinking — getting other sites to link back to your content. There is no magic formula to getting this done. For the most part, you're going to need to do the hard work of networking with other relevant websites to get your links out there.
Related Content: A Step-By-Step Guide to Boosting Organic Blog Traffic
How to Boost Blog Traffic Using Social Media Channels
Again, like referral traffic, this is done by simply having content that people want to share. As for controllable ways to do this, you can always repost the blog on your social media channels. How did this work the last time you posted it? If it didn't fare well, try posting it again with a different prompt. Focus on engaging your audience and inviting them into the story of your blog post. Ask a question, tease a pain point, or provide a solution. Make your content relatable and personable to your social media followers.
Additionally, your team should be your brand's biggest advocates. Your company's employees should be sharing and posting from their individual social media accounts and liking each other's posts. Social media engines are becoming more and more geared toward promoting personal posts, not a company's. Your employees and coworkers should be your brand's biggest advocates on social media.
How to Boost Blog Traffic Using Email
As we mentioned earlier, your email footer is a great place to promote your latest blog, but using email to boost blog traffic doesn't end there.
Your blog is an excellent source of valuable content your customers and potential customers want to read. When corresponding with them via email, don't be afraid to hyperlink out to one of your existing blogs when it's relevant to the conversation you're having with them.
How to Improve Other Blog Metrics
This next set of metrics are mainly based on human behavior once visitors land on your blog. While your SEO is what helped them land on your blog, it is your website's engagement and creativity that ensures they stay on your blog and go to other content. In fact, how visitors interact with your blog is reported back to Google. If people are landing on your blog and staying and looking around for a while, that tells search engines that it was right of them to direct the visitor to your blog and will be more willing to move your blog up in search rankings.
A Closer Look at Human-Based Blog Metrics
Bounce Rate
A "bounce" refers to when someone lands on your blog and then leaves without doing much of anything on your website. For blogs, having a high bounce rate is fairly normal. Ideally, however, you want those who land on your blog to interact with other pieces of content on your website. As mentioned before, give your readers an easy way to get to other content on your page by hyperlinking text or creating helpful CTA buttons across your content.
Exits
An "exit" is when your blog is the last page a person visits before leaving your website. Ideally, a blog sucks a reader into wanting to know more about your company, causing them to click on additional links and explore more of your website. But oftentimes, people landing on your blog are looking for a quick answer and then to get on with their research, so, like bounce rates, a high ratio of exits to entrances is perfectly normal.
Page View Time
This is the big one for blogs. It refers to how long a visitor stayed on your blog page. The higher this time is, the more of your blog someone is reading -- it means they are enjoying and valuing your content!
Improving Reader Metrics
Making your blog enjoyable to read can go a long way, which means having an eye for good blog aesthetics and an understanding of human reader psychology can improve all of your metrics.
Using Images
If you have an image in your blog, make sure it is positioned well. Avoid sticking it at the very top (unless it's in a graphic header) and never stack images directly on top of each other without a good reason to do so.
Double-check the size of your images and make sure they fit and match the style of your blog. Images shouldn't take up over half of your website page!
Additionally, make sure your featured blog image has a meta description for itself and that it is a good size for being the featured image on social media (between 2:1 and 300:175 ratio).
Include Hyperlinks
Add hyperlinks throughout your content. In order to avoid website visitors reading a blog and bouncing off your site, give them a reason to stay! Link out to other relevant content and services or solutions. Never make your reader have to dig your website to prove your blog content is legit. However, don't overdo it! Your content should have sustenance in and of itself without having to link out to other pages.
Focus on Formatting
Take a step back and look at your content with fresh eyes. How readable is it? If you have big chunks of text, consider the following:
Bold or italicize some text
Change paragraph text to H4's and H5's, etc...
Use pull-out quotes
Throw in a graphic or an image that's relevant to your message
Always Use a Call-to-Action (CTA)
The Call-to-Action or CTA is the "what's next" of your blog. Never write a blog that doesn't have a next step to it.
Create strong CTAs to use throughout all of your content. You should be linking out to your various content offers across your site where it makes sense. Put the content offer towards the top 1/3rd of your blog post to ensure it's found quickly! Then, don't be afraid to use another CTA at the end of the blog. Give readers a next step! If your goal is to increase MQLs, give them a reason to contact you.
Ensure Content Timeliness
Keep in mind that not all of the readers are engaging with your content in the timeline that you created. As well, some blogs are relevant year after year if you keep updating them. With that said, avoid using any timeline language like "In the next blog...." or "Last week, I talked to you about...." You want your content to be relevant and timely no matter when the reader accessed it. If "the next post" is available, link out to it! You can also say, "For more on this topic, read "related article." If the content isn't ready yet, update the blog when you do have it rather than saying, "Next week, we'll talk about the answer!"
However, if you want to create some suspense or draw your reader in, you can use this type of language on your social media posts! For example, "Let's continue our series with…."
Improve Blog Traffic with a Marketing Agency
Creating a blog that gets prioritized by search engines like Google and is engaging to the humans who read it can be a tough task. Not only that, but what works today may not work tomorrow, so updating your blog is a constant task!
With so much expertise needed, it's no wonder why many companies, while acknowledging the benefit of having a company blog, simply don't have the time or expertise to constantly tweak and update their posts, much less write them.
If this sounds like you, there's help available!
At Open Path Digital, we got our start by building blogs for our first clients. Those blogs are well-maintained and regularly updated, providing our clients with a reliable source of traffic and new leads.
If you're looking for a little relief from your blog writing headache, or simply need a second pair of eyes to give you the assurance that what you've written will work, schedule a call with us. We'd love to put our expertise to work for you.
View More Blog Posts