During the 2000-2001 NBA season, teams, on average, took just over 15 percent of their shots from behind the three-point line, while taking nearly 40 percent of shots from mid-range (in-front of the three-point line, but outside the paint). In this most recent 2019-2020 season, those shot selections have switched, with the three-point attempts making up almost half of the shots taken by some teams. Why such a drastic change? In a word: analytics.
By taking a closer look at shot analytics, NBA coaches realized the mid-range shot simply isn't the best place to shoot from. As such, teams have shifted to attempting nearly all shots at-the-rim or behind-the-arc. You know where else analytics are changing the game? Digital marketing.
What are Website Analytics & How You Should Use Them in Digital Marketing
Analytics refers to advanced data that is used to better dissect how users are finding your company's website and what they're doing once they're on it. Additionally, website analytics help you understand and track trends, both on your website and within your overall industry. As such, website analytics have both explanatory and predictive power.
Analytics are explanatory in that they tell you how and why visitors found your website, and analytics are predictive in that they can be used to determine trends and a consumer's future behavior.
To gain the insight you need to grow your business, you know you need analytics. But how do you obtain them? To gain data insight, successful companies employ a powerful CRM (customer relationship management) software alongside an effective website to create a comprehensive sales and digital marketing platform. For further insights, they will often use a specialized SEO analytics tool in tandem.
How to Access and Read Website Analytics
When you're ready to dig deep into what your analytics are telling you about your website, you'll need to use a dedicated software for interpreting data and tracking trends with easily readable dashboards. At Open Path, we use Hubspot CRM for this purpose. See below for a small glimpse of the data Hubspot can provide you with.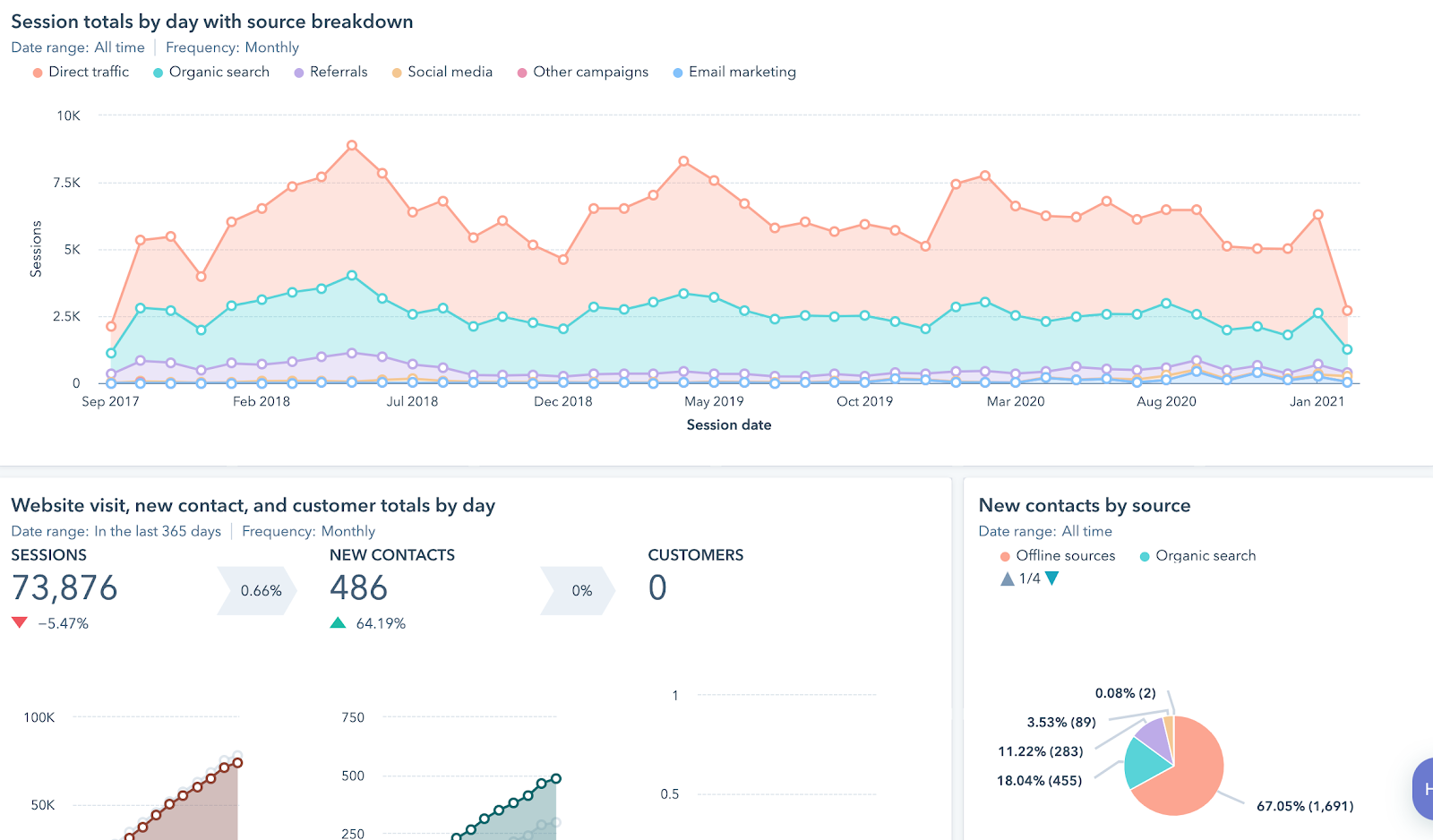 These dashboards are customizable and loaded with detailed analytics that show you how customers find you, what website content they've interacted with, and how you can get in contact with them.
This information is crucial to understanding customer engagement because these types of analytics indicate how well you are engaging website visitors with the content you provide them with on your website.
Using Website Analytics to Improve Website Performance
One of the crucial ways potential customers discover your website is through organic search traffic. This is when people do a quick search on Google or another search engine and are directed to your website. Depending on what key terms they type in, they'll receive different search results. Improving how well you're found on search engines is part of an analytics-driven process called Search Engine Optimization (SEO).
With analytics, you're able to determine which searches potential customers have been performing to land on one of your web pages, as well as insight into your competitor's positioning as you seek to grab their attention. Your CRM software should be able to tell you in its dashboards what channels people are using to get to your website and what key terms they're searching. These insights are key into further building your digital marketing presence. As such, analytics allows you to craft precise and targeted marketing content for the ideal customer to your business. At Open Path, we use SEO software to help determine the best content to develop organic search traffic based on what your website is already succeeding at.
Related Content: How to Use Google Trends to Analyze Your Company's Digital Presence
How to Apply Website Analytics to Your Digital Marketing Presence
Once you've selected your digital marketing tools for interpreting the analytics -- i.e. CRM and SEO software -- you're ready to apply those findings to your content development strategy. You'll need to be able to determine the relevant trends and where your content is most effectively engaging visitors and build from there as you establish your website as an authoritative digital resource.
With insights from your analytics, you can narrow your marketing focus to where it has the most impact. The insights gleaned can give you a target to point your arrow at, rather than merely shooting into the wind and hoping your content hits.
For many, however, while this analytics-based approach makes sense, it seems a little daunting and time-consuming. And, that can be true if you're not experienced in using digital marketing tools.
If you're sold on the benefits of an analytics-driven approach to building your digital marketing presence, but you're unsure of how to begin, get some help. At Open Path Digital Solutions, we help companies, like yours, get started. We take an analytics-driven approach to help you get the most out of your marketing spend by simplifying the data to help you understand what content to develop.
If you're interested in a free call to understand how your business can use analytics, talk to an Open Path Growth Strategist today! We'd be happy to help you develop a digital positioning plan for your business.
Blog Search
Subscribe Here
Recent Posts