The COVID-19 pandemic has forced all of us in the marketing world to rethink the way we build relationships with our customers and acquire new leads. Previous ways of building out a digital marketing strategy framework simply won't do in this "new normal." In this blog, we'll show you some best practices in building a strategy framework for your business and provide a free template download you can use yourself to enhance your digital marketing efforts.
What is a Marketing Strategy Framework?
Simply put, your marketing strategy framework is your game-plan for accomplishing your business' marketing goals and objectives. Included in this is an analysis of what you're currently doing, what you want to achieve, and how you will get there.
There are four key components of your marketing strategy framework:
It's likely you already have something like this strategy framework in place for your current marketing efforts. But when it comes to a digital marketing strategy framework for your B2B company, the process of identifying how these four key components work together is going to look a little different.
Related Article: What to Expect from an Inbound Marketing Strategy
Building a Digital Framework to Increase Leads
Just like your traditional marketing efforts, your digital marketing strategy is all about acquiring sales and marketing qualified leads (SQL and MQL) for your business. Let's break down how these four key components will help you establish a modern digital marketing platform.
Perform a Competitive Analysis for Your Business
It's important to know where you stand in relation to your competitors. One of the difficulties of digital marketing, however, is that your competition isn't restricted by geographic boundaries anymore. If your competition is on the web, they're in your territory. As you analyze your current digital marketing positioning, there are a few factors to be aware of:
Website Optimization: Is your homepage aesthetically consistent and visually appealing? This is just one of the many questions you'll want to ask yourself. If not, you may find it's time for a design refresh!

What about website content? Ask yourself: Could a random stranger figure out what I do after looking at my website for 7 minutes? If the answer is "no," you need to seriously consider updating the copy on your website. You need to consider your company's brand, tone of voice, and overall messaging. Consider your company's value proposition, positioning statements, and market differentiator.

Most important, however, is in the unseen details. How well is your website configured for search engine optimization (SEO)? Doing this requires some special tools that are usually provided to you by your CRM or by a third-party software. Even if you have these, however, it can be difficult to understand the data and analytics by yourself or without SEO training. As you perform an SEO audit, you may discover that your website isn't showing up when potential customers seek answers to their problems. You may discover that Google doesn't see you as an authoritative source of information.

All of these details can feel overwhelming. Here's a quick checklist. When optimizing your website, you need to balance the following:

Creating an attractive website that's aesthetically pleasing and easy to load
Publishing content that attracts, educates, and delights website visitors across the entire buyer's journey
Calls to action that ensure the right website visitors make it into your pipeline
Search engines understand what your website is all about and can direct the right traffic to your company



Competitive Analysis: If your website isn't showing up in searches, it's likely that you either don't have the relevant content people are searching for, or your content is getting beat out by your competitors. To figure out which one it is, you need to do a keyword analysis that's specific to your industry. Once you know what potential customers are looking for, you can make a content strategy to get on the front page of Google search results.
Setting Digital Marketing Goals and Objectives
Now that you know what keywords are being searched, you need to focus on a few of the attainable keywords to target. This is called a "content strategy." Here, you will make a plan to develop blogs, ebooks, and webinars that target relevant search queries your potential customers are looking for. All of this will feed back into your overall lead generation efforts.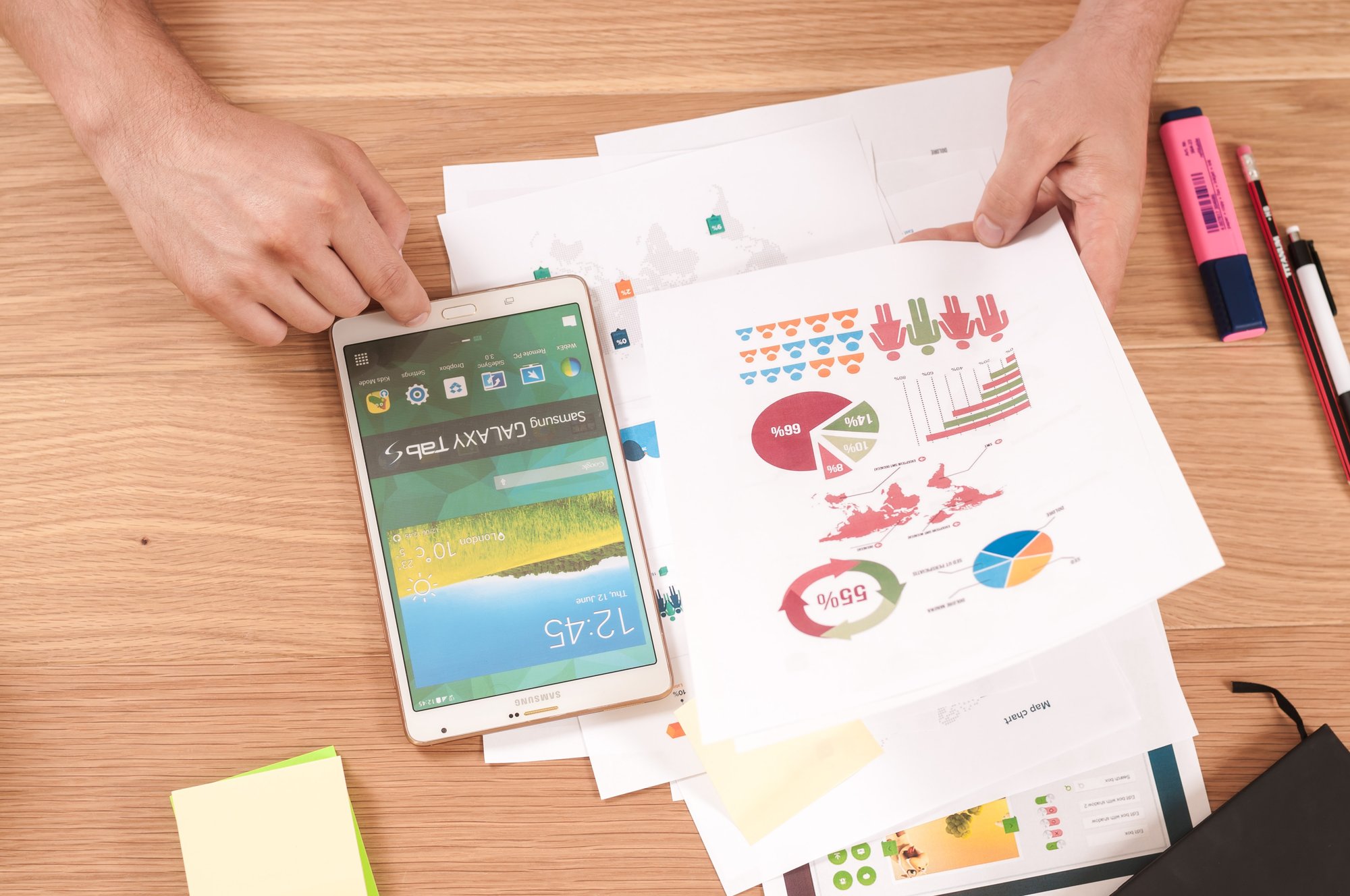 Reaching Your Digital Marketing Goals
When it comes to establishing the right digital marketing goals, set yourself a reasonable target to reach. Let's say your primary goal is to increase leads to your website by 25 percent. To accomplish this, your digital marketing strategy would include a strategy framework specifically for developing content that boosts website traffic.
Here are some ideas to help accomplish this goal:
Over the course of 5 months, create 10 pieces of content (blogs, eBooks, webinars, etc.) that target content relative to your identified keywords. Make sure content is relevant to your topic cluster strategy and appeals to the right

website visitors in the buyer's journey.

Purchase targeted ads

with a 5 percent click-through rate (CTR).
Post engaging content on social media 3 times per week.
Obviously, your goals and methods will vary based on your current industry and online performance. The key here is to have a concrete goal with a concrete plan of action. If you're unsure of how to analyze website data, set SMART goals, and how to track their success, consider partnering with a digital marketing team with proven industry expertise.
In addition to this, you're going to want to gleam some insights from your SEO data to determine which keywords to target in your content development, otherwise, you may be making plans to produce content that no one will ever find or want to read!
Taking Advantage of Modern Digital Marketing Tools
You've taken a good, hard look at your current digital positioning. You've identified where you stand in relation to your competitors. You've set goals and made a plan to achieve them. Now you need to determine how you will get all of this done and ensure you make a return on your investment.
If your company hasn't been too active in digital marketing efforts to this point, it's likely you have a lot to learn. Additionally, you may have discovered during your competitor analysis that you have a lot to work on.
As a reminder, here are some common tools you'll need to build a strategy framework for your digital marketing efforts:
Website management services
SEO analysis tools
A competent CRM (We recommend Hubspot for many reasons)
A content writing team
Digital graphics design team
Social media team
Many businesses simply do not have the time, personnel, or budget to host all of these roles in-house. In fact, it's one of the many reasons why successful businesses carve out a space in their budget to outsource a marketing team.
Establishing a Strong Digital Marketing Plan and Budget
Now that you've identified the tools needed to implement your marketing strategy, you need to plan and budget how this will be implemented within your strategy framework.
Will you do everything in-house or will you contract your digital marketing out? If you decide to keep things in-house, you'll want to set aside a budget for all the aforementioned tools and positions for each task. If you decide to contract your digital marketing out, you'll need to work with a digital marketing agency and establish a budget that meets your specific content strategy goals. Keep in mind that your marketing efforts should align seamlessly with your sales efforts. When outsourcing your digital marketing to an outside agency, include your sales team on the discussions.
Make sure you set achievable timelines to accomplish the previous listed objectives for reaching your digital marketing goals. This next section will give you a roadmap to help you stay on track and accountable for your goals.
A Marketing Strategy Framework to Help You Reach Your Goals
At Open Path Digital Solutions, we work with businesses just like yours in transitioning to a digital platform for increased digital marketing efforts. If you're convinced partnering with a digital marketing agency is the best move for your business, schedule a time to talk with us about what that will look like for your company.
In the meantime, click below and enjoy your free digital marketing strategy framework as a template to help you think through next steps for business growth!
Blog Search
Subscribe Here
Recent Posts